Pensacola Museum of Art Property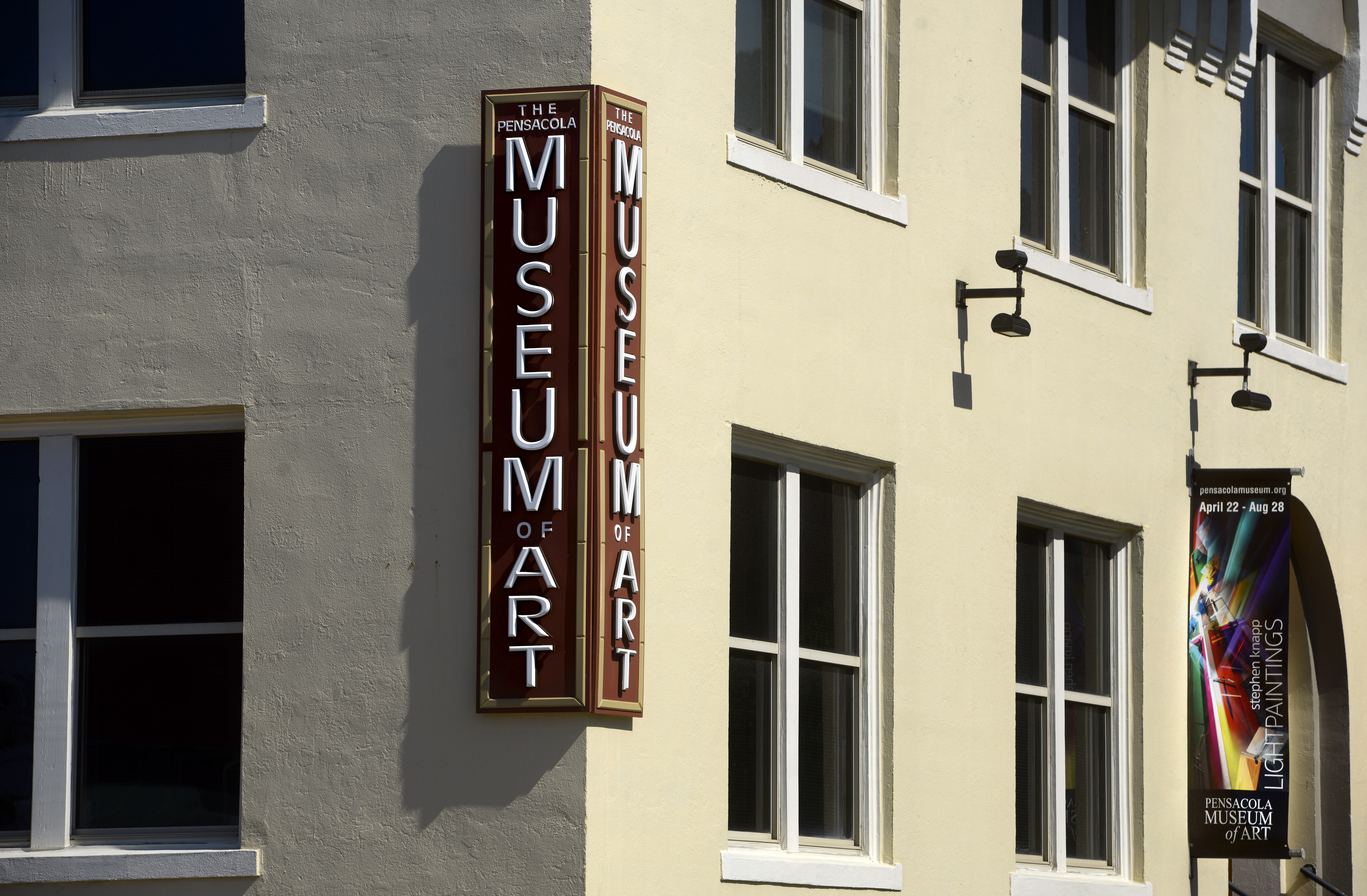 407 South Jefferson Street., Pensacola, FL 32502
| | |
| --- | --- |
| Monday | Closed |
| Tuesday | 10:00 a.m. -4:00 p.m. |
| Wednesday | 10:00 a.m. -4:00 p.m. |
| Thursday | 10:00 a.m. -4:00 p.m. |
| Friday | 10:00 a.m. -4:00 p.m. |
| Saturday | 10:00 a.m. -4:00 p.m. |
| Sunday | Noon- 4:00 p.m. |
Included with our unified admission. To learn more about the current exhibits, programs and classes see the Pensacola Museum of Art.
The University of West Florida Pensacola Museum of Art augments the academic and community missions of the University and the UWF Historic Trust Museums by promoting an open and inclusive space of discovery and dialogue rooted in art, ideas and culture. We aim to facilitate the preservation, understanding, and engagement of visual culture for audiences in the Northwest Florida region and beyond through our permanent collection, interpretive programs, a vital and dynamic exhibition schedule, academic research and education.
On Exhibit
Perdido: Work by Richard McCabe
November 3 - January 20, 2024
First Floor
Perdido is a meditation on place, time and memory. In the fall of 2019, I began making a new series of photographs in the Florida Panhandle. At the same time, my connection to the region through my mother and family was beginning to slip away. Bittersweet feelings of sentimentality for the past and a longing for stability in the present guided my search for solace within art.
The title of the exhibition, Perdido is taken from the Spanish and Portuguese word for "lost." Perdido is also a homage to Perdido Bay and Key, located to the west of Pensacola. A sense of loss, grief and a life in transition inspired the creation of the work for this exhibition. Through photographs, lo-fi projections, found-objects and paintings, Perdido explores my changing relationship with Florida's Gulf Coast.
Message from Our Planet: Digital and Media Art
October 6, 2023 - January 7, 2024
Second Floor
This exhibition is organized like an interstellar time capsule, inspired by NASA's Golden Record (an LP curated with human achievements like math and Mozart) beamed to outer space on Voyager I in 1977. The curators imagined a digital future where art communicates beyond our common era through computer code. The exhibition brings together 20 software, video, and light-technology artworks from 19 international artists.
Artists included: Daniel Canogar, R. Luke DuBois, Sarah Frost, Guillermo Galindo, John Gerrard, Leon Harmon, Jenny Holzer, Kenneth Knowlton, Rafael Lozano-Hemmer, Christian Marclay, Manfred Mohr, Peter Sarkisian, and Siebren Versteeg.
Selections from the Permanent Collection
October 19 -
Stairwell Gallery
The Pensacola Museum of Art stewards a growing collection of modern and contemporary art. This exhibit highlights work made during the late 19th century and early 20th century when globalization and industrialization prompted a period of immense artistic experimentation and production. On display are lithographs by Toulouse -Lautrec and Jules Chéret, as well as glassworks from the French studios of Gallé and Baccarat. The term Art Nouveau is commonly used to describe this style of work and these artists were known to share an appreciation of the natural world, a rejection of traditionalism, and a desire to unite the fine and applied arts. As a museum in the public trust, our collection is an important community resource for research, scholarship, and artistic inspiration. We continue to grow our holdings through generous gifts and strategic purchases that allow us to tell a more complete story of the history of art.