Pensacola Museum of Art Property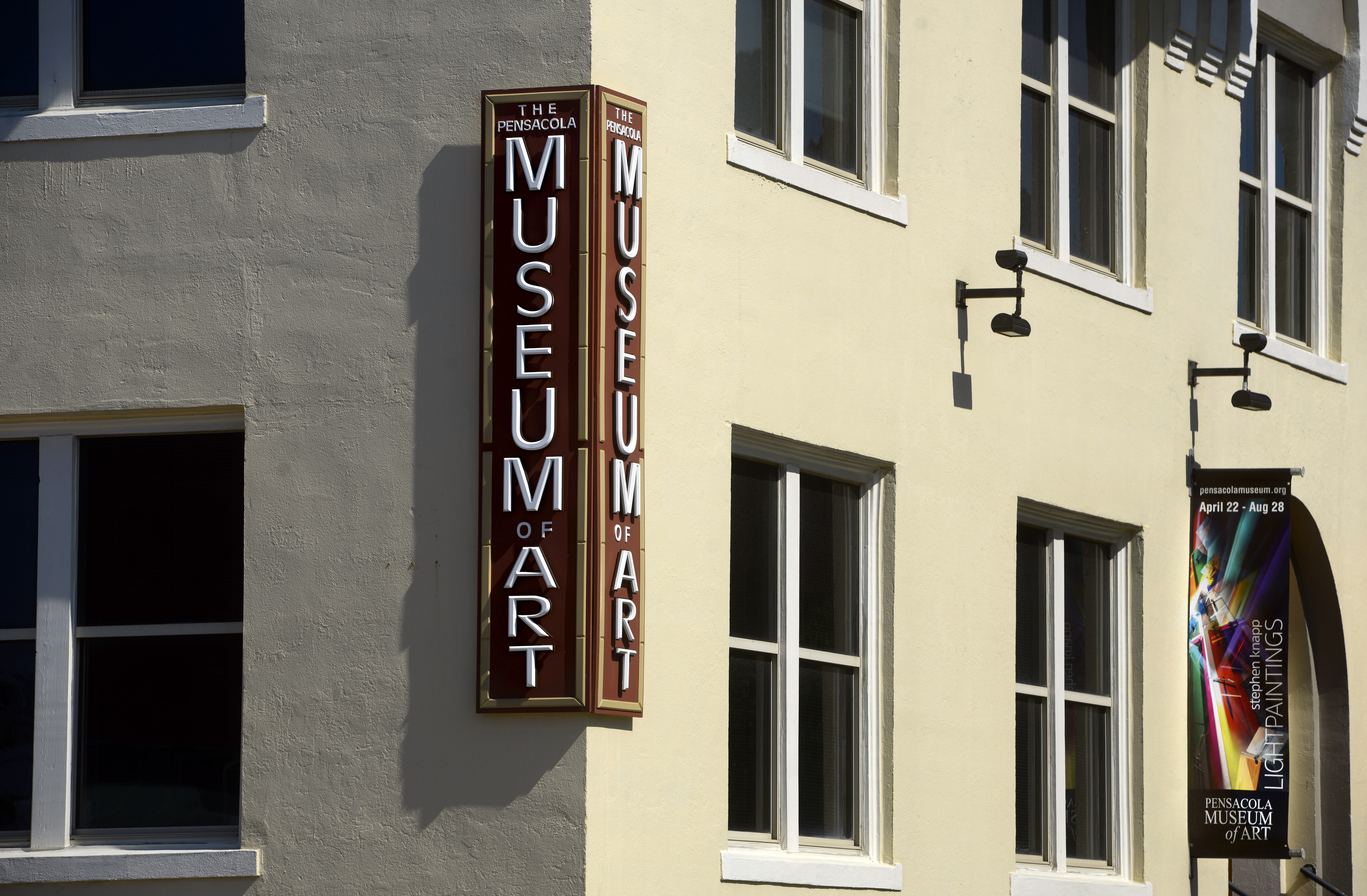 407 South Jefferson Street., Pensacola, FL 32502
| | |
| --- | --- |
| Monday | Closed |
| Tuesday | 10:00 a.m. -4:00 p.m. |
| Wednesday | 10:00 a.m. -4:00 p.m. |
| Thursday | 10:00 a.m. -4:00 p.m. |
| Friday | 10:00 a.m. -4:00 p.m. |
| Saturday | 10:00 a.m. -4:00 p.m. |
| Sunday | Noon- 4:00 p.m. |
Included with our unified admission. To learn more about the current exhibits, programs and classes see the Pensacola Museum of Art.
The University of West Florida Pensacola Museum of Art augments the academic and community missions of the University and the UWF Historic Trust Museums by promoting an open and inclusive space of discovery and dialogue rooted in art, ideas and culture. We aim to facilitate the preservation, understanding, and engagement of visual culture for audiences in the Northwest Florida region and beyond through our permanent collection, interpretive programs, a vital and dynamic exhibition schedule, academic research and education.
On Exhibit
SynThesis: Group BFA Exit Exhibition
April 21 - May 14
The Pensacola Museum of Art and The Art Gallery at the University of West Florida present SynThesis, a group BFA Exit Exhibition. This exhibition features work by graduating Bachelor of Fine Art students from the UWF Department of Art and Design. The work on display encompasses a variety of mediums that include drawing, painting, fiber, photography, printmaking, digital media, graphic design, and sculpture.
Nonney Oddlokken: Tiny, Little Fables
March 10 - May 28
Nonney Oddlokken is a contemporary artist who utilizes fiber and collage techniques to create a Louisiana narrative and exhibition entitled Tiny, Little Fables. The references in this body of work mix elements from her own childhood "fables," Catholic references, Cajun folklore, New Orleans Voodoo, and the indigenous flora and fauna of Louisiana swamps and bayous. Her work employs a unique process that consists of handmade paper substrates and collage elements that are finished with hundreds of yards of hand-stitched gold thread embellishments.
The Members Show
March 10 - May 28
The Members Show is an annual juried exhibition open to Pensacola Museum of Art members. Our founders introduced The Members Show during the art center's first year in 1954 as a way to honor and celebrate the relationship between local artists and the institution. Sixty-nine years later, artists remain a vital part of our museum community and this exhibition highlights their talent and creativity. The 2023 exhibition showcases over fifty artists working in a diverse range of media.
309 HOUSE SHOW: Artist in Residence Annual Exhibition 2022
This exhibition is the inaugural Artist in Residence Annual Exhibition featuring artists participating in the 2022 309 Punk Project Artist in Residence Program. The exhibition features works donated to the 309 Archive and is curated by Valerie George, Sean Linezo, and Christopher Satterwhite. Featured Artists:
JULIA ARREDONDO
ANASTASIA MORAY LEECH
CRISTY C. ROAD
TIANA HUX & MALEVITUS
JULIA GORTON
POPPY GARCIA
TIM KERR
SKOTT COWGILL
SURROUNDER
MIKE BRODIE
MALLORY LUANA
Rental Information
Visit the Events at the Pensacola Museum of Art page for more information on booking this venue for your next event!