Pensacola Children's Museum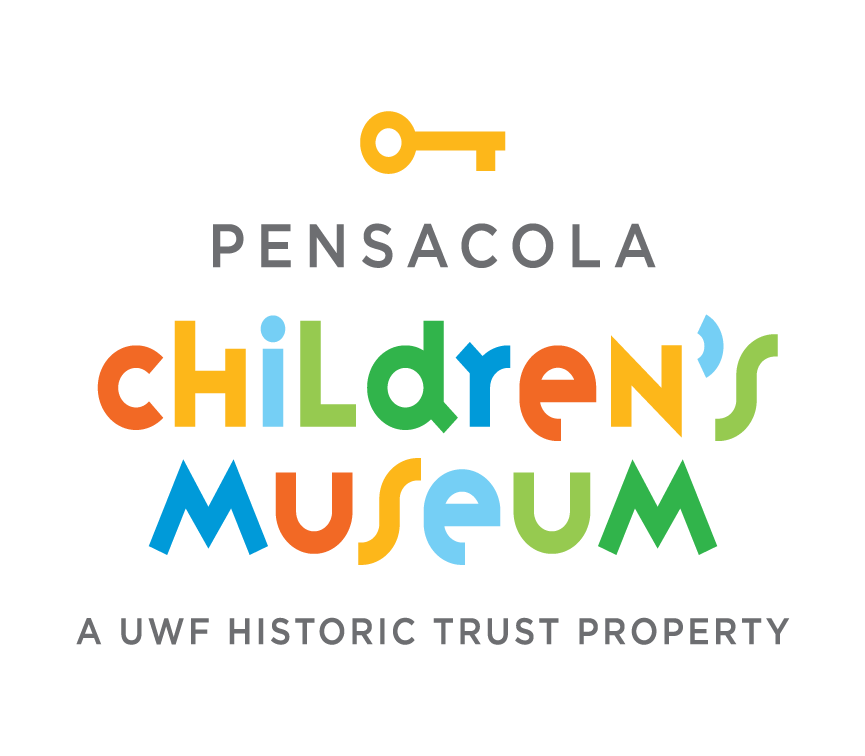 115 E Zaragoza St, Pensacola, FL 32502
| | |
| --- | --- |
| Monday | Closed |
| Tuesday | Open: 10:00-4:00 |
| Wednesday | Open: 10:00-4:00 |
| Thursday | Open: 10:00-4:00 |
| Friday | Open: 10:00-4:00 |
| Saturday | Open: 10:00-4:00 |
| Sunday | Open: Noon-4:00 |
The Pensacola Children's Museum is pleased to announce a new reciprocal admission program with the Pensacola MESS Hall. Present your Pensacola Children's Museum ticket at the MESS Hall and receive 50% off MESS Hall admission.
The Pensacola Children's Museum is open for regular admissions from 10:00-4:00. Our unified ticket provides admission to the Pensacola Children's Museum, the Pensacola Museum of Art, the Pensacola Museum of History, and Historic Pensacola Village for seven (7) days. A child mut be a part of your group in order to enter the Museum. No unaccompanied adults allowed for the safety of our young visitors. All children must be accompanied by an adult.
Interested in birthday parties? See our Birthday Party Page.
Interested in giving a year of free admission to the Pensacola Children's Museum as a present? Gift a year of admission with a membership to the UWF Historic Trust.
Grandma Jenkins StoryTyme is Back!
Grandma Jenkins is ready to share her favorite stories once again! StoryTyme is at 11:00 a.m. on select Fridays. Free program in the Party Central Room. Grandma Jenkins taught elementary education for 39 years in the UK and loves sharing books with children. *Please note the tentative schedule. Dates may be rescheduled or cancelled.
Friday, April 7: The Gingerbread Boy
Friday, April 21: The Little Red Hen
Friday, May 5: William the Dragon
Friday, May 26: The Elves and the Shoemaker
Friday, June 2: Rumpelstiltskin
Members Only Hours
New Member Only Hours coming soon. Want to become a member? Join today!
Pensacola Children's Museum Birthday Parties:
The Museum will be open to the general public for birthday parties during operating hours.
Saturday, April 8: 10:30 a.m. - 1:00 p.m.
Saturday, April 22: 10:00 a.m. - 12:00 p.m.
Sunday, April 23: 1:00 p.m. - 3:00 p.m.
Our Exhibits
Our exhibits are designed so that parents and young children can learn and play together through interactive spaces.
First Floor
The first floor of the Pensacola Children's Museum is the Discovery Gallery. Historic Pensacola in miniature! Children can interact and play in our first floor Discovery Gallery, where historic houses are pint-sized. Travel back in time to guard a fort, trade goods at the Post, or sail a Spanish ship.
The Kiddie Corral is a space reserved for our youngest visitors under age 3.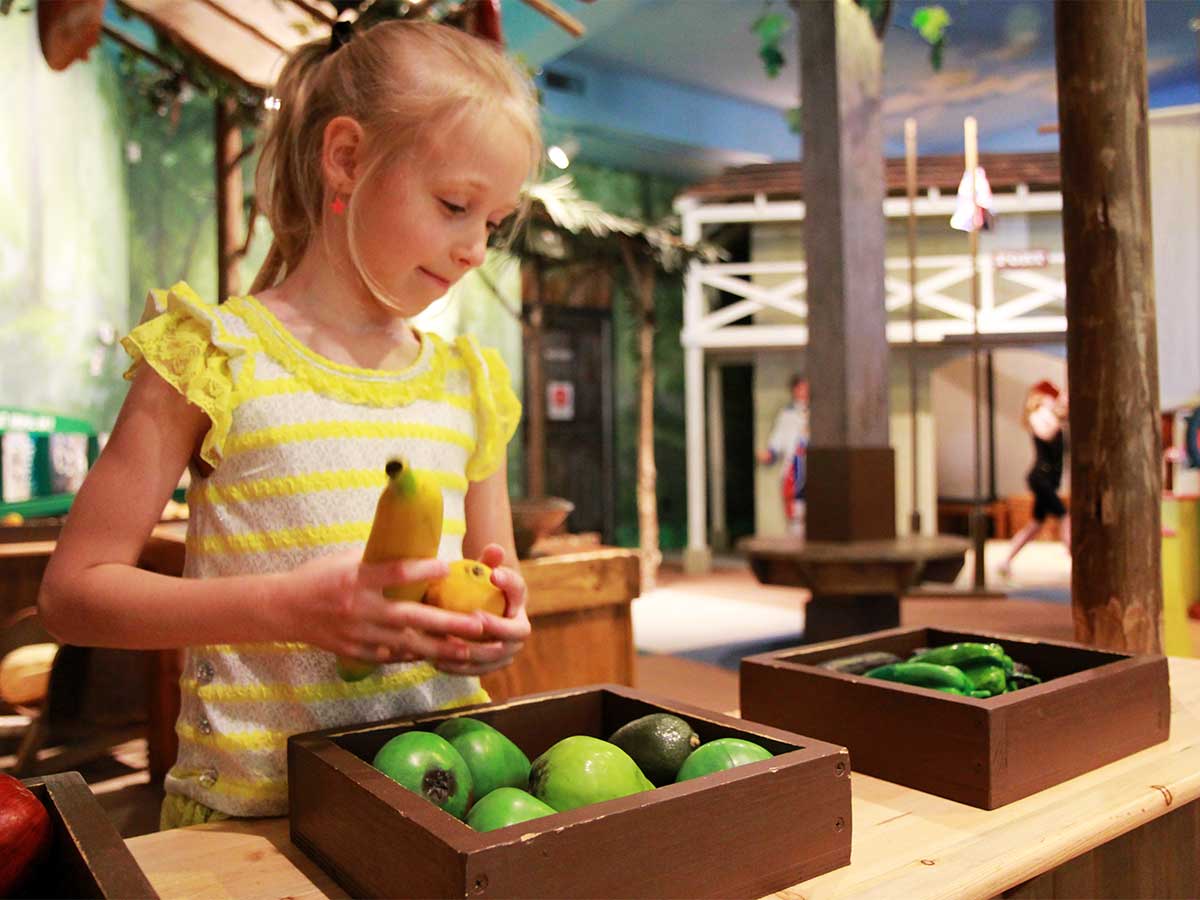 Second Floor Exhibits
Colonial Classroom
Experience education in a recreated one-room schoolhouse. Here, children can explore what school was like over one hundred years ago. Whether your child is teaching or listening, they can interact with modern technology in this space to understand the past.
Publix Super Markets Interacive Exhibit
Step into a Publix Supermarket in this immersive room. Sponsored by Publix Super Markets Charities, children can shop for groceries or stock the shelves with smaller versions of their favorite foods.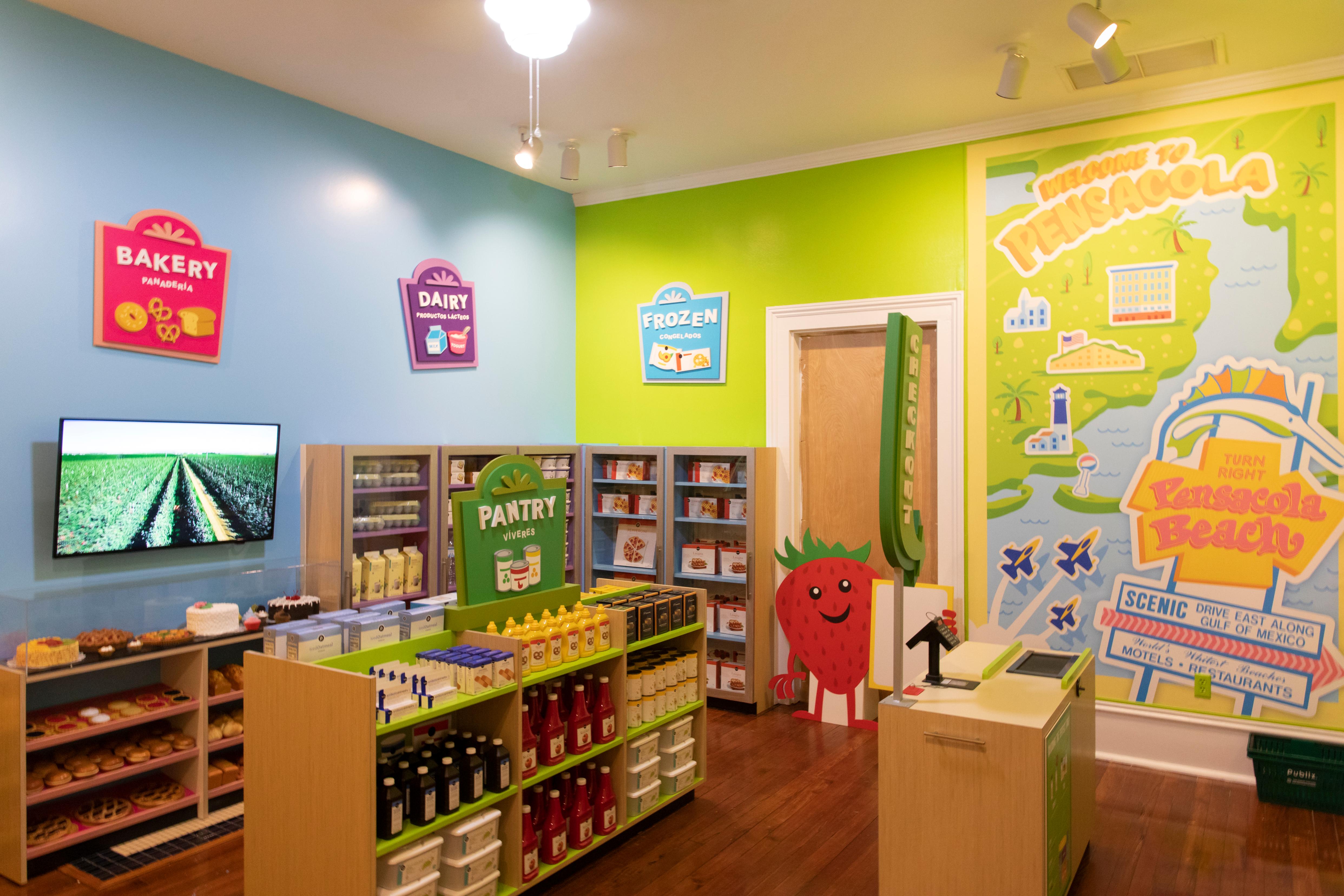 Indigenous Americans
In this gallery, the museum recognizes and honors the native people of this land. Children can learn about the different tribes of our region, paddle a wooden canoe, and view a representation of a Native American settlement.
Brik Makerspace
The sky is the limit in our Strickly Brik's Makerspace gallery. STEAM activities help kids tap into their imagination by constructing engineering feats. Multiple work tables allow for collaborative creation in a fun space.
Land and Sea: Wonders of the Gulf Coast
From the ground to the Gulf, Land & Sea lets kids explore the connection between animals, nature, and humans. Dive into a world full of sea creatures, help our coastal friends build homes, or load cargo ships in this interactive gallery.