Appleyard Storytelling Cottage
213 E. Zaragoza St., Pensacola, Florida 32502
Looking for a John Appleyard publication, visit the Tivoli High House Store from 10:00-4:00.
| | |
| --- | --- |
| Monday | Closed |
| Tuesday | Open 10:00 a.m. -4:00 p.m. |
| Wednesday | Open 10:00 a.m. -4:00 p.m. |
| Thursday | Open 10:00 a.m. -4:00 p.m. |
| Friday | Open 10:00 a.m. -4:00 p.m. |
| Saturday | Open 10:00 a.m. -4:00 p.m. |
| Sunday | Closed |
The University of West Florida Historic Trust and Apple Corps Foundation presents the Appleyard Storytelling Cottage, and exhibition featuring Pensacola's premier storyteller, John Appleyard. The exhibition features many of Appleyard's stories and celebrates his numerous contributions to community. He worked with Cox Communications to record 51 different stories, some featuring one 15-minute episode and some including multiple episodes and lasting as long as 90 minutes. Each story is available as a part of the exhibition.
You can also watch Mr. Appleyard's videos on our YouTube channel.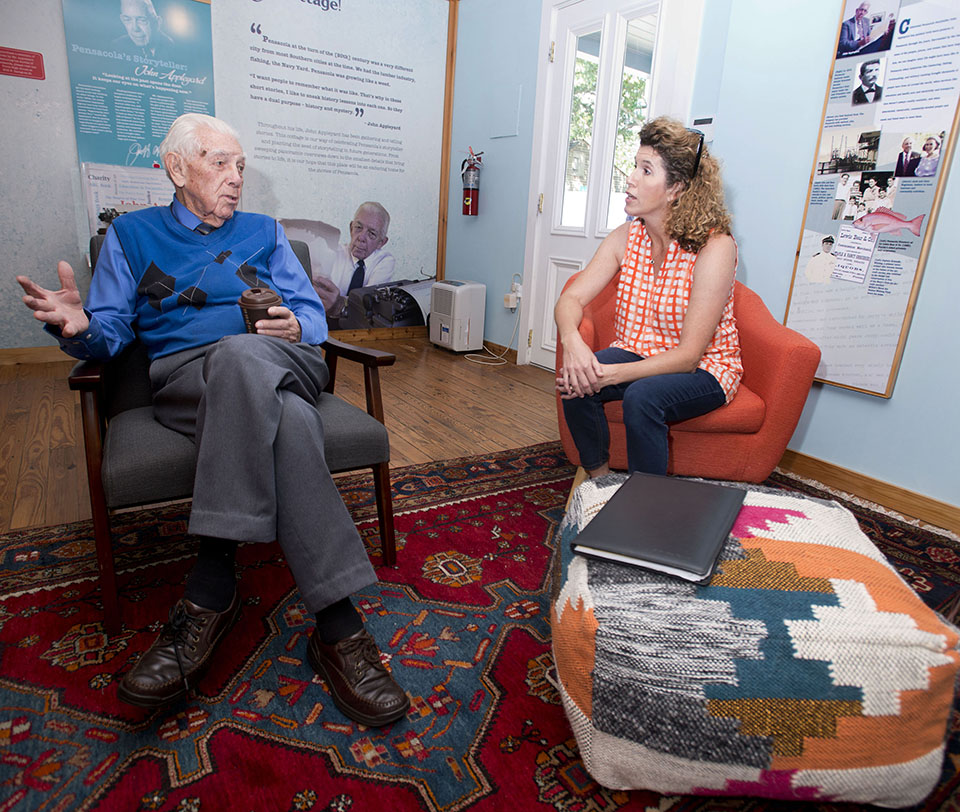 Appleyard has published more than 100 books, including histories of prominent local families, novels and non-fiction works detailing the area's rich history, and a series of more than 100 mysteries involving two 1900s-era Pensacola policemen. His work also includes the plays, "The Second Great Document" and "The Third Great Document," along with numerous radio reenactments and plays focusing on local and regional history.