Fountain Park Events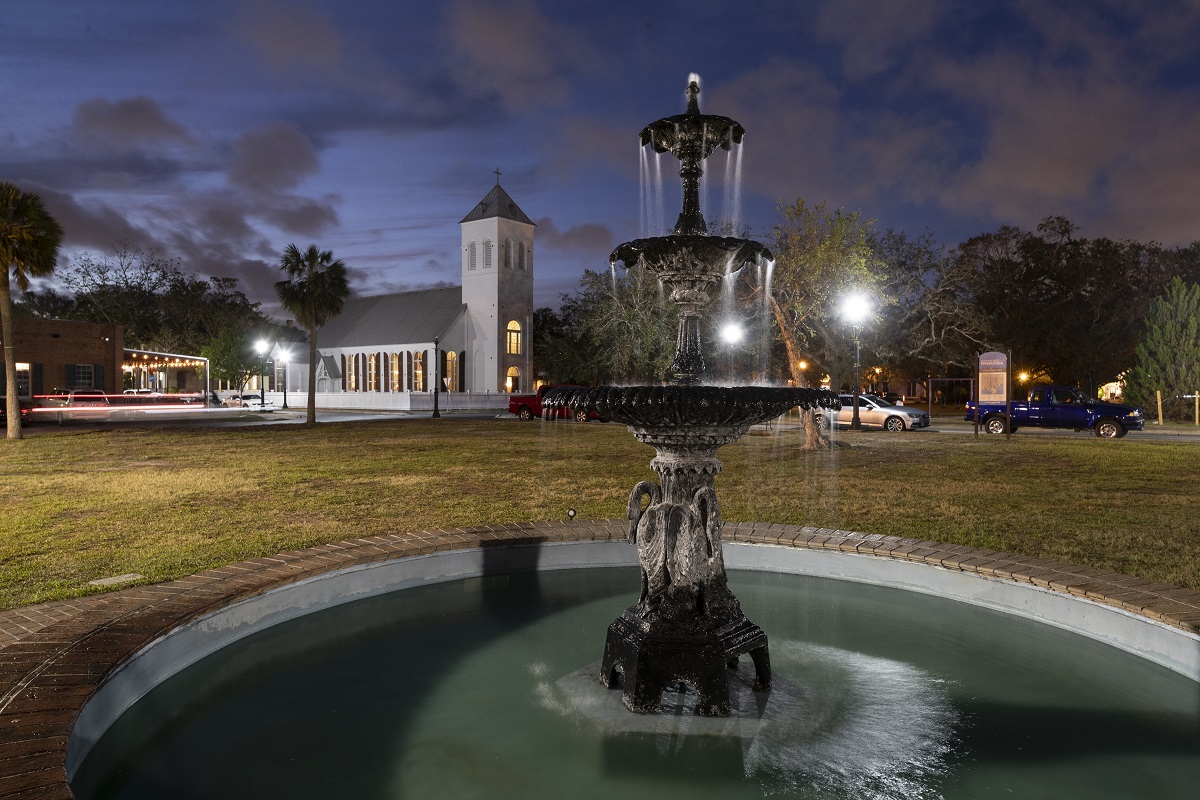 If you are looking for a picturesque option for your next event, Fountain Park is the perfect respite from the hustle and bustle of the city. South of Seville Square, this small park has a decorative fountain, donated by the Fleming family, highlighting various scenes of Pensacola history. This location serves as a beautiful backdrop for small weddings, festivals, and celebrations.


Pricing:
| Days | Time | Daily Rate |
| --- | --- | --- |
| Sunday - Saturday | All Day | $400.00, plus tax |
*All bookings include a refundable $250.00 security deposit due one month prior to the event. This is in addition to the rental fee listed above.
**Insurance is required for all events at all UWF Historic Trust properties.


Capacity:
Fountain Park can easily accommodate 200 attendees.


Rental Period:
Fountain Park is rented by the day. All set-up time, event time, and clean-up time is to be conducted within the rental period. Please review the City of Pensacola's noise ordinance, Sec. 8-1-13. - Regulation of Noise for all outdoor events. Per this regulation, loud noises are prohibited between 11pm and 7am within the City of Pensacola.


Parking Lot:
The small parking lot attached to Fountain Park is included in the booking. The parking lot may be blocked off for events, but it is the responsibility of the renter to block off the lot. Barricades and cones are not provided.


Equipment:
Tables, chairs, tents, AV equipment, barricades, trash cans, and other equipment are not provided for Fountain Park.
Tents are not provided by the UWF Historic Trust. Staking is not permitted. Tents may be secured with water barrels or cement blocks.
Restrooms are not provided for this venue. Portable restroom may be used at this venue, but the placement of them must be coordinated with the Historic Trust staff prior to the event.
Please review the FAQs on the Historic Venues page for more information.


Booking and Contact Information:
For booking information or to schedule a site visit, please contact our Event Coordinator:
Try our new text message only number. This number does not include a voice line for phone calls. Text the following keywords for more information:
INFO: general information about our venues and a link to our venue guide
TOUR: To schedule a walk-through of our venues
AVAIL: To check a venue's availability. Please include the venue name, date, and year
EMERGENCY: For issues or emergencies with an event happening within the current 24-48 hour period
Disclaimer: By texting, you agree to receive text messages, reminder messages, automated messages, and promotional messages. This agreement is not a condition of any purchase. Messaging and data rates may apply. You can text STOP to end or HELP for help.


Photos of Fountain Park: