Exhibits
There is always something to see and do in Historic Pensacola. Our Museum of Industry and Museum of Commerce are hosts to permanent exhibits and tell the stories of the Pensacola's early industries and downtown Pensacola circa the 1890s. In addition to changing exhibits, the T. T. Wentworth, Jr. Museum, is where you will find a permanent exhibit on the history, archaeology and preservation of the City of Five Flags as well as an exhibit showcasing artifacts from the eclectic collection on Mr. T. T. "Tom" Wentworth, Jr. himself, including the infamous petrified cat. Come visit us and see for yourself!
Permanent Exhibits
Trader Jon's
Martin "Trader Jon" Weissman, owner and namesake of Trader Jon's Bar, was well known for his personal eccentricities such as his famously mismatched socks and "Tradernomics" as well as his eclectic establishment. One of Pensacola's top tourist destinations for decades, Trader Jon's, decorated with photos and memorabilia, some traded for drinks, was a safe haven where young flight students, military personnel, astronauts and movie stars rubbed shoulders with local politicians, characters and the occasional ne'er-do-well. Trained as a U. S. paratrooper in WWII, Trader's lifelong love of naval aviation and his livelihood were inseparable. There was truly nothing like it on Earth! Step inside and experience the legend that was Trader Jon's.
New Rental Venue! For booking information, please contact Casey Campbell at 850-595-5985 x107, or ccampbell@uwf.edu.
‌
The City of Five Flags
The City of Five Flags tells the unique story of Pensacola through artifacts, photographs and stories told through archaeology and preservation efforts. Renovated in 2012, the City of Five Flags exhibit includes streamlined timelines, engaging interactives, one-of-a-kind artifacts, and immersive environments all designed to help visitors experience life in Pensacola under five different flags.
For thousands of years, people have been discovering Pensacola. Warriors, conquistadors, presidents, heroes from all walks of life, and countless others have discovered that in trying to make their mark on Pensacola, Pensacola has made its mark on them.
What drew people here more than 450 years ago still captivates us today. The beautiful, unspoiled bay, the vivid pageantry of our multi-cultured history, and the promise of new discoveries from places that transcend time itself--this is Pensacola, City of Five Flags.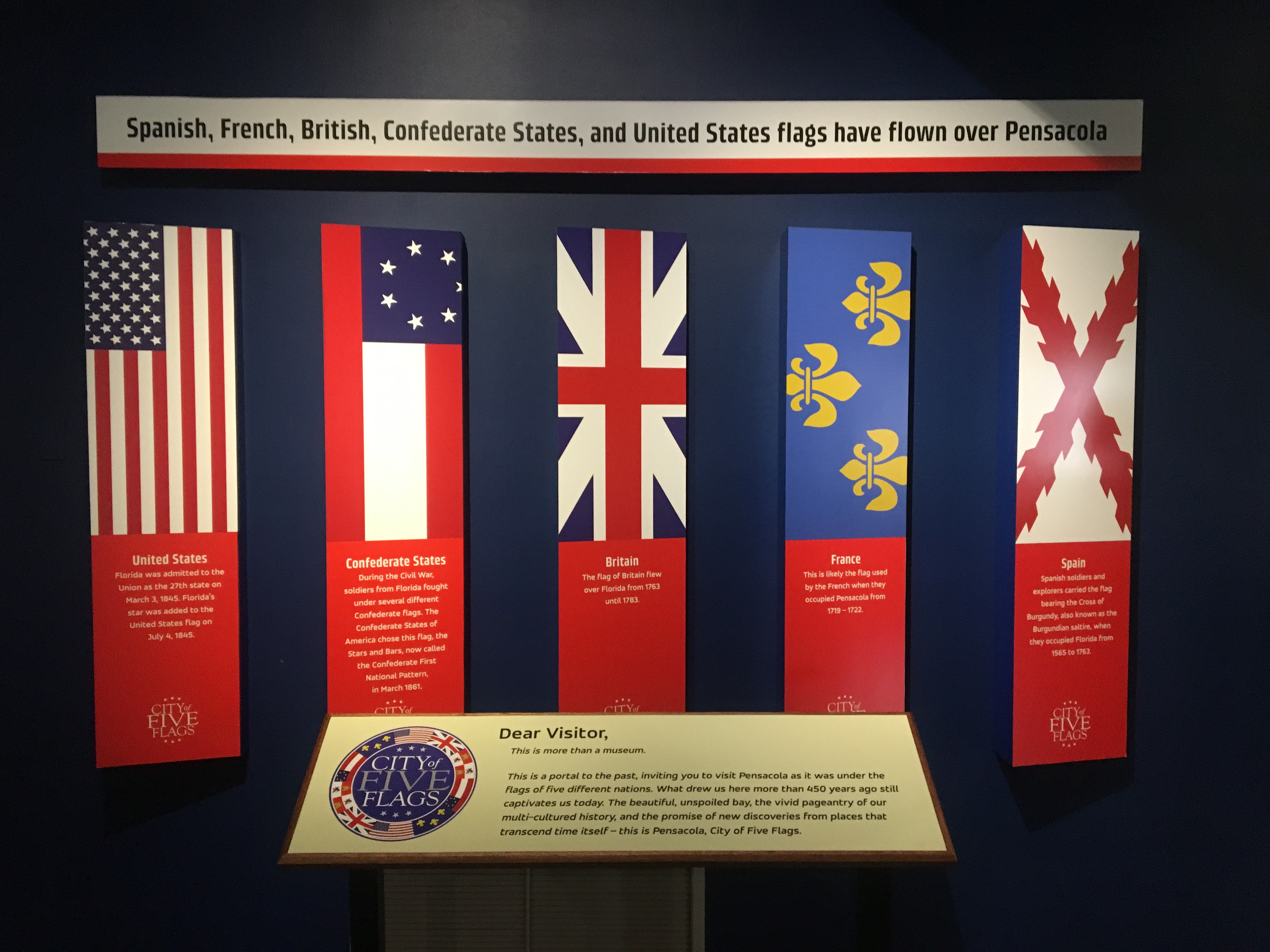 The Wentworth Gallery
A cornerstone of UWF Historic Trust, the Wentworth Collection is a lasting connection to our region's past and to one of Pensacola's prominent citizens, T.T. Wentworth. A passionate collector, Theodore Thomas "Tom" Wentworth, Jr. (1898-1989) amassed an extraordinary collection of art, artifacts, and archival material during his lifetime. In 1988, he donated over 100,000 objects to the State of Florida, thereby creating the T.T. Wentworth Jr. Florida State Museum. The gallery features selections from the original collection ranging from curiosities to historical gems, exhibited and interpreted in a manner that was popular during Mr. Wentworth's lifetime.
Changing Exhibits
Philately & Friendship: The Art of ACE
August 24, 2017-February 27, 2018
Philately & Friendship: The Art of ACE features 50 illustrated envelopes, as well as pages of personal correspondence, created by members of the Art Cover Exchange, also known as ACE. The postal art included in the exhibition was sent by ACE members around the work to fellow member and local artist Manuel Runyan during the 1930s and 1940s.
Often taking inspiration from newly released stamps, the envelopes boast individual designs of events important to the artists. Correspondence highlights day-to-day life as well as some of the major issues of the day. This intimate exhibition offers visitors an opportunity to explore an original social medium through the correspondence and artwork of ACE's members. With over 300 members in the United States, Canada, England, France, Japan, and Australia, ACE was active from 1935 into the 1950s.
Patios, Pools, & The Invention Of The American Backyard
December 16, 2017 - February 25, 2018
The suburban backyard is an American original—an invention so familiar it hardly seems invented at all. Patios, Pools, & the Invention of the American Backyard explores the mid-century backyard from the rise of the suburbs and tract houses, to the beauty of postwar garden design, and the birth of the environmental movement. Filled with vintage photographs, historic drawings, and fun period advertisements, the exhibition reveals how these spaces became such an integral part of American popular culture. Patios, Pools, & the Invention of the American Backyard is presented by the Smithsonian Institution Traveling Exhibition Service and the Smithsonian Garden's Archive of American Gardens.