Living History
Living history seeks to educate visitors by interpreting how people lived in the past through demonstrations and interaction.
Our colonial programming depicts life in the early 19th century when Pensacola was a colony under Spanish rule. Activities include open hearth cooking, butter churning, gardening, candle making, laundry and more.
Our Victorian programming depicts life in the late 19th century in the boom years of Pensacola's industries. Focusing on the leisure activities of the middle and upper classes, programs include lawn games, picnics, bicycling, garden parties, and tea.
Living history programs change seasonally to always offer visitors a new experience! Want to become a part of our living history program, Volunteer Today!
Fall 2018 Living History Schedule:
*All programs are subject to change depending on weather
Daily:
Interpreters demonstrate activities that were part of the average working-class family's daily life. Activities include gardening, cleaning, mending, needlecrafts, musket-cleaning, and fire-starting.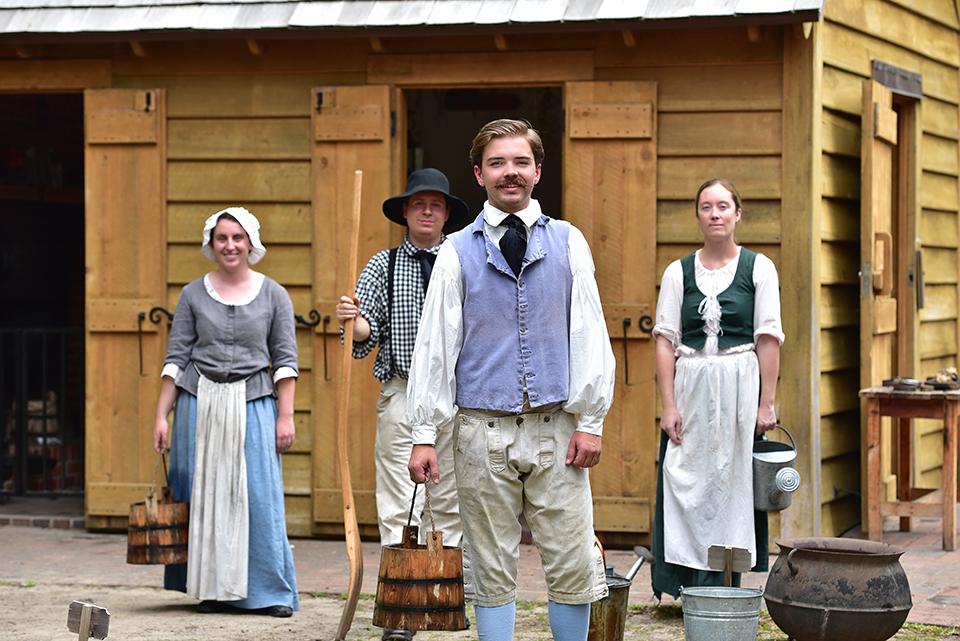 ‌
Tuesday: Laundry and Soap
Interpreters demonstrate how laundry was done in the early 19th century and discuss how soap was made. Visitors are welcome to wash the laundry too!
Wednesday: Yellow Fever and/or Colonial Games
Interpreters discuss deadly Yellow Fever epidemic.
Interpreters share the games of the colonial period.
Thursday: Broom Making and/or War of 1812 Soldiering
Interpreters illustrate the broom making process.
Interpreters share the military maneuvers of the War of 1812.
Friday: Black Drink
Interpreters explore the Native American tea, black drink.
Saturday: Open Hearth Cooking
Interpreters will share what working-class colonists would have eaten, how they acquired their foods, and how they prepared their foods. Visitors see cooking demonstrations featuring authentic foods and cooking methods.
Special Living History Programs:
Pottery Demonstration: 3rd Wednesday of the month
Local potter Mercedes Rodgers of Full Circle Gallery demonstrates pottery practices on the 3rd Wednesday of the month from 10:00 until 1:00 in Historic Pensacola Village. She has also created a line exclusively for Historic Pensacola for our Tivoli High House Museum Store as well as for our Living History department to use in the Lavalle Kitchen House.
Printmaking Demonstrations: 1st, 3rd, and 5th Tuesday of the month
Caitlyn Cooney of Charlotte Mason Printing Company demonstrates the art of letterpress on the 1st, 3rd, and 5th Tuesdays of each month in the Museum of Commerce at 12:30.