Living History
Living history seeks to educate visitors by interpreting how people lived in the past through demonstrations and interaction.
Our colonial programming depicts life in the early 19th century when Pensacola was a colony under Spanish rule. Activities include open hearth cooking, butter churning, gardening, candle making, laundry and more.
Our Victorian programming depicts life in the late 19th century in the boom years of Pensacola's industries. Focusing on the leisure activities of the middle and upper classes, programs include lawn games, picnics, bicycling, garden parties, and tea.
Living history programs change seasonally to always offer visitors a new experience! Want to become a part of our living history program, Volunteer Today!
Winter Season 2018 Living History Schedule:
*All programs are subject to change depending on weather
Daily:
Interpreters demonstrate activities that were part of the average working-class family's daily life. Activities include gardening, cleaning, mending, needlecrafts, musket-cleaning, and fire-starting.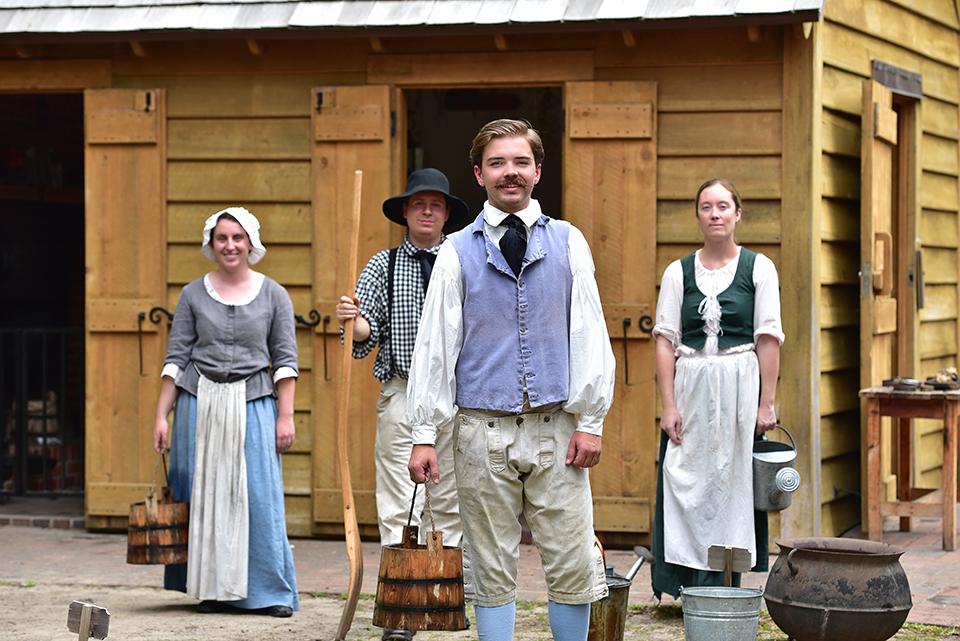 ‌
Tuesday: Laundry and Soap
Interpreters demonstrate how laundry was done in the early 19th century and discuss how soap was made. Visitors are welcome to wash the laundry too!
Wednesday: Candle Making
Interpreters discuss the various lighting methods available to colonists, as well as demonstrating the production of beeswax candles using period techniques.‌
Thursday: Black Drink
Watch interpreters brew the "black drink," a tea from the Yaupon Holly that served as a ceremonial and social beverage for indigenous peoples of the southeast. ‌
Friday: Woodworking
Interpreters work on various wood projects using period hand tools
Saturday: Open Hearth Cooking
Interpreters will share what working-class colonists would have eaten, how they acquired their foods, and how they prepared their foods. Visitors see cooking demonstrations featuring authentic foods and cooking methods.
Jacksonian Guard
Sponsored by Visit Pensacola and UWF Historic Trust, the Jacksonian Guard is a Pensacola re-enactment group of Jacksonian era and Spanish soldiers, fifers, and drummers who perform a Colors Ceremony every third Saturday at noon in Plaza Ferdinand. The ceremony commemorates Pensacola's 195th Birthday and Florida as a U.S. Territory, reenacting the transfer of Spanish Florida to a U.S. Territory.
For more information, visit https://www.facebook.com/jacksonianguardpensacola/.
‌