Arcadia Mill Calendar of Events
Kid's Crafts To-Go
Each children's admission ticket includes a Kid's Craft To-Go, while supplies last. Visit Arcadia to find out what exciting craft we have to offer!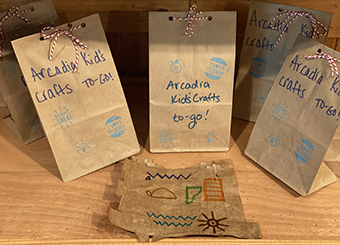 Filled with the Spirit: Exploring the Antebellum Practice of Hush Arbors
ICYMI, check out a recording of the presentation, Filled with the Spirit, by the Arcadia Site Manager for FPAN's "Zoom into Archaeology" series!
During the antebellum period, enslaved African Americans had limited options for practicing religion, especially native traditions and combinations of both Christianity and African practices. There are several different alternatives of the term hush arbor, such as brush arbor or hush harbor, but they all refer to a secret meeting place where enslaved people would hold religious services. Scholarly literature, oral history interviews, and material culture shed light on this important aspect of African American lifeways and provide a foundation for further exploration and celebration.
This presentation is most appropriate for teens and adults, but is family-friendly. "Zoom into Archaeology" is a free online series that features a short presentation by an archaeologist via Zoom and an opportunity for participants to ask questions at the end of the presentation (duration is about one hour total).
The Story Tree with Miss Moss
Miss Moss has gone virtual, bringing the story tree to you at home! Subscribe to Arcadia's youtube channel to see all archived video programming!