Arcadia Mill Calendar of Events
Admiring the Hush Arbor: Inspiring Community Voices
When: Saturday, February 26th from 4:30-6:30 p.m.
Where: Arcadia Homestead at 4755 Anna Simpson Road Milton, FL 32583
Join us for a free, public program that explores African American culture, resistance, and experience within the framework of hush arbor practices. In the antebellum period, a hush arbor was an outdoor meeting place, usually a secret, where enslaved people could practice religious traditions. This outdoor, seated program will include speakers, artistic demonstrations, and music- seating is limited and first come first serve. This program is best suited for adolescent ages and above. For more information, please contact Arcadia staff at arcadiamill@uwf.edu.
KID'S CRAFTS TO-GO
Every month, a new craft is included with each children's admission ticket!
October 2021: Spider Webs
November 2021: Turkey Puppets
December 2021: Tree Disc Ornaments
January & February 2022: Mardi Gras Masks
March 2022: Papyrus Craft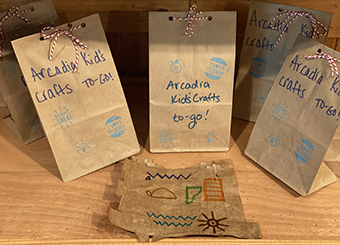 Filled with the Spirit: Exploring the Antebellum Practice of Hush Arbors
ICYMI, check out a recording of the presentation, Filled with the Spirit, by the Arcadia Site Manager for FPAN's "Zoom into Archaeology" series!
During the antebellum period, enslaved African Americans had limited options for practicing religion, especially native traditions and combinations of both Christianity and African practices. There are several different alternatives of the term hush arbor, such as brush arbor or hush harbor, but they all refer to a secret meeting place where enslaved people would hold religious services. Scholarly literature, oral history interviews, and material culture shed light on this important aspect of African American lifeways and provide a foundation for further exploration and celebration.
This presentation is most appropriate for teens and adults, but is family-friendly. "Zoom into Archaeology" is a free online series that features a short presentation by an archaeologist via Zoom and an opportunity for participants to ask questions at the end of the presentation (duration is about one hour total).
Upcoming Programming
Join us for in-person programming this fall and spring (Covid-19 dependent)
---
Admiring the Hush Arbor: Inspiring Community Voices
Spring 2022
Are you looking for a speaker to present at a meeting or in a lecture series? Contact Arcadia Staff to request a presentation!
The Story Tree with Miss Moss
Enjoy Miss Moss from the comfort of your home!
---
Miss Moss has gone virtual, bringing the story tree to you at home! Subscribe to Arcadia's youtube channel to see all archived video programming!
Traveling Exhibits
Check out the Arcadia Classroom for traveling exhibits
---
Heritage Monitoring Scouts: Learn about how you can help monitor heritage at risk in Florida, courtesy of the Florida Public Archaeology Network.
Archaeology 101: Milton High and the Scott Site: Learn about Milton High School's archaeology program, courtesy of the Florida Public Archaeology Network.