Archaeology
The University of West Florida Archaeology Institute has investigated numerous aspects of this significant mill site including the various industrial facilities and the residential areas inhabited by the diverse community associated with the mill.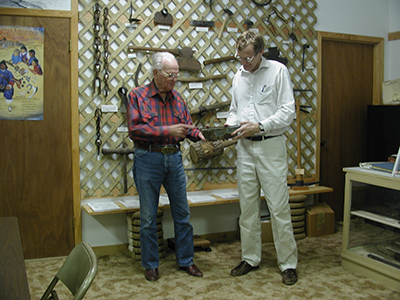 Historic preservation efforts of the 1960s, paved the way for Arcadia to be protected and preserved for future generations. Warren Weeks and many other local citizens worked to raise awareness of Arcadia Mill and its historical significance. To prevent urban sprawl, the Santa Rosa Historical Society purchased 34 acres that were eventually donated to the University of West Florida.
In 1988, the UWF Archaeology Institute conducted an archaeological survey that identified activity areas on the landscape. This survey led to the Arcadia Archaeological Project, 1990-1991, undertaken by UWF to investigate the industrial facilities including the earth and ironstone dam, first sawmill, and textile mill.
UWF Archaeological Field School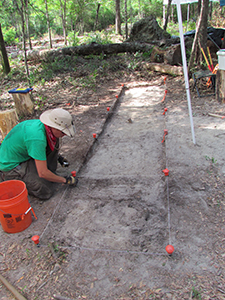 Since 2009, Arcadia Mill has hosted a section of the UWF Archaeological Field School program. Students from the University of West Florida's Department of Anthropology, along with non-UWF students, use Arcadia Mill as a learning laboratory for field techniques including survey, unit excavation, and documentation.
From 2009 to 2011, the field school investigated a residential area north of Pond Creek that was inhabited by enslaved African Americans. This occupation was identified through the recovery of naval buttons coupled with historical documents indicating that surplus naval clothing was purchased to clothe the enslaved at Arcadia. You can see the buttons and learn more about our interpretation in the Visitor's Center museum.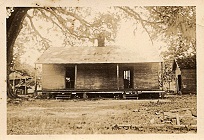 Ongoing research is centered on daily life at Arcadia with particular focus on the enslaved African American laborers. Recent research has focused on the residential area south of the mill complex including the Simpson house (1835-1935) that once overlooked the mill and the remains of a wooden cabin that was likely occupied by enslaved African Americans. This saddlebag-style cabin sat in the shadow of the Big House and has revealed many interesting features. Check out this story map about the enslaved and visit Arcadia Homestead to learn more.
Archaeology on State Lands in Florida
The UWF Historic Trust is subject to Florida Statutes Chapter 267.061, which mandates that all state agencies consider the effect of undertakings on any historic property that is included in, or eligible for inclusion in, the National Register of Historic Places.
Florida's archaeological resources are non-renewable and must be protected! Digging for artifacts on state lands without a permit is a third degree felony. For more information, see the Florida Division of Historical Resources.